I'm in Japan, so most people think I chose this username (on twitter and as a web domain) because of Murakami Haruki's "Wild Sheep Chase", but actually that's not the case. I have, of course, read the book, but I had an affinity to sheep before I'd done so. It all comes from a cycle ride in 1999.
It's probably not wrong to say that my father and I had a 'complicated' relationship during my teens. I was a bit of a tearaway, I'm sure my parents thought I was in with the wrong crowd. I went to university at 18 to study Music and Drama (with a minor in American Studies, for some reason) and really enjoyed my first year there. And then I fell ill and had to return home. Aha, you see this mental illness business isn't my first rodeo. By the time I moved back into my parent's house I was agoraphobic, severely. I couldn't leave the house (I could barely leave my room at one point). And it was in that moment that my dad came through. He took me to see a psychiatrist, he walked with me as I took literally terrifying steps outside of the house, to the end of the drive, later to the end of the street and around the village. This, by the way, is why my current Panic Disorder and depression is so frustrating, as it doesn't have such obvious triggers… but more on that in another post.
As I convalesced I began another degree at a college closer to home, this time in Social and Urban Studies (basically social psychology, economics and sociology with a little other stuff thrown in) and at the end of it my dad and I had decided we would cycle the length of Britain—Land's End to John O' Groats—together. I actually can't remember how we came to this plan and looking back it seems almost ludicrous to consider. I enjoyed cycling, but was in no way fit enough to begin such a task. My dad, on the other hand actually trained more for it. He was pretty fit. We got touring bicycles, panniers, clip in pedals (SPDs… yes I did fall down when I couldn't unclip).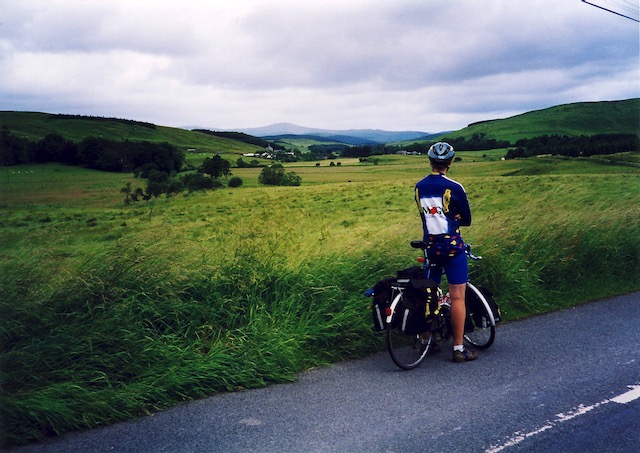 So in 1999 we cycled the country together. It was amazing. There's something very visceral about experiencing the changes in scenery of the country gradually while pushing yourself along by your own steam. Cornwall and Devon were the hardest for me as I was so unfit. I couldn't manage to cycle up some of the hills at all and had to walk the bike up, but as I was only in my early 20s I soon became fitter. I can't pick a favorite part except that I was particularly moved in the highlands of Scotland, which seemed so beautiful.
What does any of this have to do with sheep? Well, there was one particular hill. I can't remember exactly where it was (maybe my dad can? Although there were a *lot* of difficult hills), but this was a killer. I remember being halfway up and thinking, "there's no way I can do this. I am such a failure." This feeling of failure wasn't about the cycling at all of course, it was existential. I can't get over this hill. I just… can't. How can I be such a failure? (these will be familiar thoughts to those of you with depression).
And at that moment we came across some sheep by the road. I lumbered up aside them pedaling in squares. I looked at the sheep nearest to me. The sheep looked at me. And then it trotted alongside, and paced me up the hill. I made it up that to the top without having to walk. I could achieve it even though I'd convinced myself that I couldn't. Of course I'm not stupid. I don't think the sheep was helping me; it was probably simply being chased by me. But it motivated me enough to be able to cycle up that hill and finish the whole journey up to the very top of Scotland.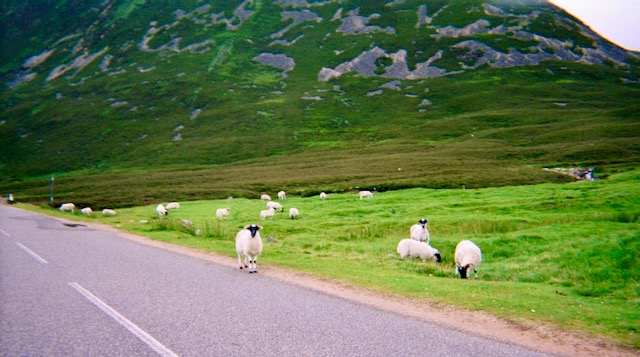 During the trip I had a call from the college. I'd passed with a First Class Honours degree. This would enable me to go on to do a Master's in Sociology at York, and then a PhD. The scenery was amazing as I took that call. It was such a nice way to find out.
So, we cycled the length of the country. It brought my dad and I closer together like no other thing could. If you have kids, I really recommend doing something like that, especially when they're at an age that they can really appreciate it. We'd gone through good and bad weather, pelting rain and strong winds, a broken spoke. We'd followed the Tour de France at night in B&B's (these were the Armstrong days…). We did it together.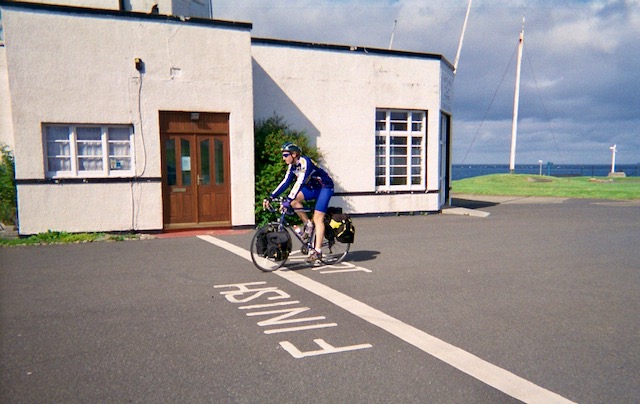 And we saw a lot of sheep. And ever since I've been chasing that sheep in the knowledge that I *can* do things I put my mind to.